Check out the list of personal trainers in zip code 11206, 11216, 11221, or 11233 or enter your NYC zip code above to see a list of personal trainers available in the Bedford-Stuyvesant area.
Target Fitness Goals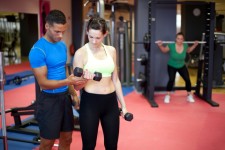 A local Bedford-Stuyvesant personal trainer can help you form target fitness goals so you can see fast results. While weight loss and re-shaping are common goals, they don't show results as fast as many people know in order to remain a motivation for training. A professional personal trainer can help create short term goals that keep you motivated and provide a way to check your progress.
"…easy to use, comprehensive and helpful because of the ability to search based on very specific criteria."

Finding a professional
Not everyone who calls themselves a personal trainer is qualified to do so. Unfortunately, the title can apply to many areas from fitness to wellness to life coaching and even spirituality. To make sure that you are connecting with qualified Bedford-Stuyvesant personal trainers, go to neighborhoodtrainer.com to find a list of registered trainers. On neighborhoodtrainer.com, you can search by zip code and then view the full profiles of all the trainers who service that area. You can search by the neighborhood you live in, the area you work or even the location of your gym. Neighborhoodtrainer.com allows you to preview the available Bedford-Stuyvesant personal trainers so you can pick one with the right qualifications to meet your goals.
Getting started
Visit neighborhoodtrainer.com today and start the process of getting a personal trainer in your neighborhood. You can search by entering the zip code of where you want to train. Each Bedford-Stuyvesant personal trainer has listed the zip codes they work in with the site so you don't have to read through listings that don't apply to you. Once you have your search results, click through and read the profiles of each. Select two or three that seem right to you and make an appointment with them to meet. You'll know when you have found the right one when you click in person and the goals they define clearly match your own.