Check out the list of personal trainers in zip code 11214 or enter your NYC zip code above to see a list of personal trainers available in the Bensonhurst area.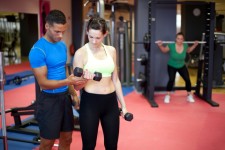 Can a Bensonhurst personal trainer help you succeed?
A personal trainer can do more for you than just keep you on track with your fitness goals; they can help you succeed in many areas of your life. One way to think of the skill set a personal trainer has is that it combines a physical fitness coach with a counselor and mentor that can help guide you to your goals. Visit neighborhoodtrainer.com to start the process of finding a personal trainer to help you succeed.
"…easy to use, comprehensive and helpful because of the ability to search based on very specific criteria."
Keeping it close
The first thing a trainer will tell you is that the more convenient they are to your life, the better you will be able to stick with the program. Neighborhoodtrainer.com allows you to search by your zip code to help you find a trainer that is close to you. One thing that you have to consider is whether you need that proximity to your home, or would it be better that they are located near your place of work. Having a Bensonhurst personal trainer can help you make keeping your appointments easy by placing them directly in the center of your life. Search neighborhoodtrainer.com today to see who is convenient to your life. The sooner you get started with a personal trainer, the faster you will see results.
Picking the right trainer
Visit neighborhoodtrainer.com today and start the process of getting a personal trainer in Bensonhurst. Once you have your search results, click through and read the profiles of each. Select two or three that seem right to you and make an appointment with them to meet. You'll know when you have found the right one when you click in person and the goals they define clearly match your own.