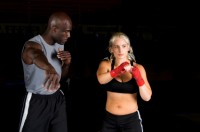 3 Reasons to Hire A Bronx Personal Trainer
Bronx personal trainers are individuals that can help you achieve your health and fitness goals. There are a number of reasons that you should consider hiring a personal trainer for yourself, because the cost is definitely worth the benefits that you receive from it.
1. Better fitness. As you would expect, there are two major reasons that people hire Bronx personal trainers. They may hire trainers because they are preparing for a particular race or another type of sports activity. But the more common of the two is that people want a professional to help them improve their overall health and fitness. Personal trainers can help you improve heart health, flexibility, endurance, strength, balance, and even coordination and posture. Some of these may seem simple, but a trainer can really enhance your fitness levels. They will monitor how you're doing and help you tune your program to you.
2. Lose or maintain weight. Along with fitness, the intent of hiring a personal trainer often includes weight loss or maintenance. Personal trainers are experts in many realms of fitness, and will be able to help you, whether you are trying to reduce your body fat, your overall weight, or to shape and tone your body so that you are fitter. Personal trainers can help you set good goals and they can teach you healthy ways to achieve those goals.
3. Take care of health concerns. Here's an interesting fact that you may not realize. About half of the people who work with a personal trainer actually have some sort of medical need. Arthritis, diabetes, and obesity are the most common diseases, but some trainers work with people who have more severe issues as well. Why is this? Because personal trainers are able to work with other medical professionals in order to make appropriate decisions and help you reach your health and fitness goals in a safe way that won't affect your health in a negative way.
As you can see, working with a Bronx personal trainer can be very advantageous to you and your fitness goals. If you want to look at a number of Bronx personal trainers, please take a look around at neighborhoodtrainer.com. We have all of the information that you need in order to find a personal trainer in your area.
Simply enter your New York City zip code at the top or click here to do an advanced search for your specific needs.
Areas a Bronx personal trainer can service:
10451 10452 10453 10454 10455 10456 10457
10458 10459 10460 10461 10462 10464 10465
10466 10467 10468 10469 10470 10471 10472
10473 10474 10475 10499
See All NYC Personal Trainer Pages By Zip Code
Neighborhoods a Bronx personal trainer can service:
North Riverdale Fieldston Riverdale Kingsbridge Marble Hill
Spuyten Duyvil Norwood Bedford Park Fordham University Heights
Mount Hope Morris Heights Mount Eden High Bridge Concourse
Concourse Village Melrose Mott Haven Port Morris Hunt's Point
Longwood Morrisania Claremont Village Crotona Park West Farms
East Tremont Belmont Botanical Gardens Bronx Park Bronx Zoo
Woodlawn Wakefield Eastchester Edenwald Williamsbridge Olinville
Co-op City Baychester Pelham Bay Park City Island Hart Island Pelham Bay
Country Club Schuylerville Edgewater Park Throgs Neck Pelham Gardens
Pelham Parkway Morris Park Van Nest Parkchester Westchester Square
Unionport Soundview Castle Hill Gleason Point Fort Schuyler