If you live or work in Corona, Queens you will want to see the list of personal trainers in 11368 shown here or enter another New York City zip code above to see a list of personal trainers training in your area.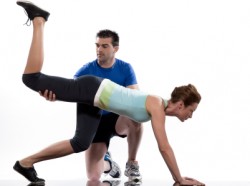 Hit the Gym with Corona Personal Trainers
Going to the gym is not feasible for many people. There's not enough time in the day. There is the embarrassment of working out in front of other people. And who can forget the expensive costs of a gym? For people who have these quails and others with the gym, the personal trainer is an option. Although there are personal trainers who provide their services in a facility there are also many that offer in-home training, too. When you enter the zip code of your location you can instantly find those personal trainers that offer in-home training.
In-home Corona personal trainers can come to your home (or other location) any time that you would like, and for as long as you want. The duration and frequency are things that are both left up to you. And, you can also decide what it is you want to do during each of the sessions. A personal trainer makes it easy to get a complete workout with no fuss and without that trip to the gym.
If you've ever dreamed of having a home gym but the expensive costs or other factors have stopped you, hiring personal trainers is the best thing that you can do. They make it easy to meet all of your fitness goals, whether you want to shed the pounds and lose weight or want to build muscles or simply stay healthy. You can get what you need when a personal trainer is working with you!
Go ahead and get started using this service to find the personal trainer that you have been looking for. It is easy, it is simple and it can make a world of difference when it is time to find an at-home personal trainer. There is nothing to lose but so much to gain.