NeighborhoodTrainer Talk Hosts Exclusive Interview
with Tony Cortopassi: Fitness and Health Advice from a Top Expert in New York
City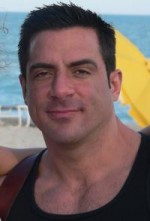 New York, New York, July 30, 2012 – NeighborhoodTrainers www.neighborhoodtrainer.com), an innovative site that enables people to quickly find a fitness expert within a specific region of New York City, announces its featured broadcast of NeighborhoodTrainer Talk with Tony Cortopassi. The broadcast includes detailed health and fitness advice from Mr. Cortopassi, along with information about his professional background and multiple client success stories. Listeners can download the broadcast here, or view Mr. Cortopassi's profile on NeighborhoodTrainers here.
A personal trainer, nutritionist, group fitness instructor and health coach, Mr. Cortopassi has over 12-years of experience in a variety of specialties. He also works with clients with preexisting conditions, including high blood pressure, obesity and cardiovascular disease. His training interests combine strength conditioning, improved diet and weight loss, enabling individuals to achieve their personal fitness goals. Mr. Cortopassi also trains clients in residential buildings, outdoors, private studios and other settings throughout New York City.
"Tony Cortopassi is a distinguished trainer and bodybuilder, someone who works with individuals of all interests and ages. His successes – and his impressive range of specialties – are a testament to his innovative approach to helping people reach their fitness goals. I encourage my fellow New Yorkers to read more about Tony's background, as well as the testimonials he enjoys from a diverse array of clients. He is a welcome addition to our site," says Glenn Dickstein, Founder and CEO of NeighborhoodTrainers.
Finding a Trainer Is a Personal Choice: NeighborhoodTrainers in Action ?
NeighborhoodTrainers reminds people that finding a trainer is, indeed, a personal choice. "The road to fitness starts with a commitment to replace old habits with better practices, which emphasize a more intelligent approach to health and wellness. And, rather than joining a gym or hiring just any trainer, our site gives people – and trainers – the means to
start this journey together," says Mr. Dickstein.
About NeighborhoodTrainers
Headquartered in New York City, NeighborhoodTrainers enables users to quickly and accurately find a qualified fitness expert within a specified region in Manhattan. For trainers, the site is also an effective business development tool to garner new clients and gain valuable exposure. With its emphasis on convenience and choice, NeighborhoodTrainers makes good health – and the opportunity to hire a wellness professional – both easy and enjoyable. For more information about NeighborhoodTrainers, please visit www.neighborhoodtrainer.com
###