If you live or work in the Auburndale area of Queens you will want to see the list of personal trainers in 11358 shown here or enter another New York City zip code above to see a list of personal trainers available in your area.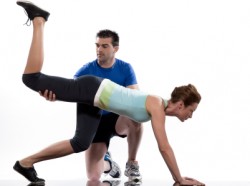 NeighborhoodTrainer is a website founded for real people like you looking to get yourself to an optimal level of fitness, posting the profiles and biographies of personal trainers in Auburndale and in other New York zip-codes to help connect those in their fitness journey with trainers who can help them best to achieve their goals. But with so many horror stories about personal trainers floating around that deem them militaristic or harsh, why would you want to invest your time and money to develop a personal relationship with one? The answer is that personal trainers are now like what you think they are.
Personal trainers come in a variety of different types and styles. This is because every personal trainer has a different fitness background and story, giving them a certain outlook on how exercise is supposed to look. Every personal trainer also has a different yet impressive educational background, allowing them to synthesize different styles of movement into impressive workouts that can't be found on any home DVD or gym class. Personal trainers spend years developing their styles, personalities, and attitudes. By investing in one, you are also finding yourself a friend and confidant for all of the issues about your health you can't discuss with your friends or family. Rather, a personal trainer is a non-judgmental source of comfort in your workout world.
If you're looking for the Auburndale personal trainer that best suits your needs, enter your Auburndale zipcode into our search box and browse through the profiles of our personal trainers to find someone that will fit your needs. After you've found someone you can see yourself having a close relationship with, do a trial session with them before committing to a full deal and see if you are comfortable. This level of comfort is key in finding a good personal trainer – while all may by intelligent and highly educated, being equally qualified to teach you, they will also all have unique vantage points that will set them apart from other personal trainers. These qualities are what will help you find your own personal trainer.