If you live or work in Bayside, Queens you will want to see the list of personal trainers in 11359, 11360, or 11361shown here or enter another New York City zip code above to see a list of personal trainers available in your area.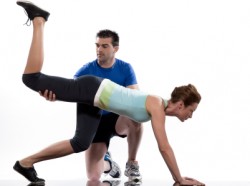 The differences between using a Bayside personal trainer from NeighborhoodTrainers and a simple neighborhood gym are astronomical. While you may think you are fitness-savvy, you have no idea just how much you are compromising your own workout by going it alone.
Facts from modern research indicate that it is best when you workout with someone else to keep yourself motivated on the exercises at hand. However, going to the gym with your best friend isn't going to do either of you any good if you are not able to do the workouts properly. Research indicates that most people in the gym actually are using the equipment and doing repetitions of common workouts wrong, meaning that they are not receiving the intended results from them, but are rather just being caused pain and hassle in wondering why they were ineffective. A personal trainer, however, has not only mastered these workout techniques, but has studied them in-depth and can give you different variations of some classic moves that are customized to your body and goals to ensure that you meet the level of fitness you are looking for.
Personal trainers in Bayside aren't just good for making you a customized workout, though. As you build a personal connection with your trainer, they are able to motivate you to continue your workout by giving you fun workouts that suit your lifestyle. Personal trainers not only act as a coach, but also are there to field questions you may have about your own fitness and health along the way, meaning that they will be your sounding board for anything that comes up along the way. This helps you kick your Google habit to the curb and receive answers that are not only accurate, but tailored to your body to ensure that you know exactly what is going on every step of the way.