If you live or work in the Bellerose Garden Park area of Queens you will want to see the list of personal trainers in 11426 shown here or enter another New York City zip code above to see a list of personal trainers available in your area.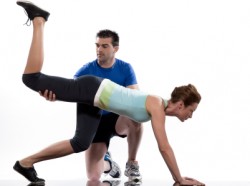 With so many available gym opportunities, using a personal trainer in Bellerose Garden Park may seem pointless. However, a personal trainer isn't just a person that designs your workout – in fact, they do more than most people will ever know. The personal trainers in the NeighborhoodTrainer community are some of the best in the business, and they go above and beyond the call of duty to make sure that you see the weight loss results that you expect. NeighborhoodTrainer emphasizes the need for having a personal trainer in New York.
The importance of getting a personal trainer can be seen simply by stepping into a gym and watching people workout independently; while many people may have seen an exercise online somewhere and decided to try it, most do not know the proper technique and form associated with the exercise, causing it to be grossly ineffective and painful. A personal trainer can help you learn how to avoid these pitfalls while exercising and find yourself doing exercises the correct way. Also, a personal trainer is also like your own workout guru: by getting to know you and your body, your personal trainer will be able to tell you what exercises will be best for you to do in order to see maximum results in your targeted areas.
Investing in a personal trainer is a financial and time commitment, but you don't merely get an exercise partner; rather your personal trainer is your biggest fan, your coach, and your dietician. Working with your personal trainer, you can learn which foods to eat and which to avoid in order to maximize your results in the shortest amount of time, building up muscle and melting away fat. It is in this way that personal trainers help their clients achieve their goals; my tackling their clients' healths from every perspective through a committed relationship, they are able to ensure satisfaction with results. Personal trainers are just as invested in you as you are in them.