If you live or work in the Clearview area of Queens you will want to see the list of personal trainers in 11360 shown here or enter another New York City zip code above to see a list of personal trainers available in your area.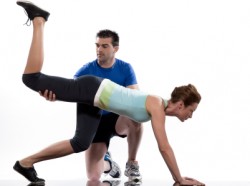 Those who are just starting their personal fitness journeys may be bummed out by the idea of working out; with so much confusing equipment at the gym, it is hard to imagine that any exercise could be more fun than watching your favorite movie. However, runner's high isn't just a myth – working out can be one of the most fun activities in your life if you get the right help. Finding Clearview personal trainers to help you reach this goal of having fun in your workout is easy in the NeighborhoodTrainer community.
So how is it that personal trainers know how to have more fun while exercising than anyone else? The secret to their success is that personal trainers have studied all different forms of kinesiology and fitness methods, giving them the advantage of being able to combine different types of movements into one packed workout that is sure to deliver results. In spending time with your personal trainer and having honest conversations with them, they will be able to customize a bespoke plan for you that fits your lifestyle and interests, constantly giving you new workouts and showing you how to do them so that it never gets boring. The monotony of the gym is no more if you invest in a personal trainer!
The other way personal trainers make working out so fun is that they become your coach and your support system through the process. This means that your personal trainer is there to help you through all of your rough patches to help you better understand your body and what you are doing for it. In a relationship where you get to talk about yourself and your needs and have someone completely listen and understand, how could you not be happy? Personal trainers are the best way to understand yourself, your goals, and achieve your fitness ambitions.