If you live or work in College Point, Queens you will want to see the list of personal trainers in 11356 shown here or enter another New York City zip code above to see a list of personal trainers available in your area.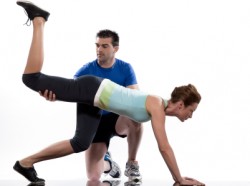 If you think you have your fitness in the bag, think again – with the foods on the market today that we eat regularly, it's a wonder that any of us are still here. Even if you're already doing fine at the gym, you could use a College Point personal trainer from NeighborhoodTrainer to help you maximize your health with a new diet plan.
Didn't think a personal trainer did anything but help you workout? Well, we hate to say it, in fact, personal trainers do much more than most people think. Almost all personal trainers have a background in nutritional sciences, movement studies, and anatomy to allow them to understand how the body functions optimally for each person, and how to help them achieve this goal in their lifestyle without forcing them to give up their favorite foods. Rather, personal trainers meet with you in a one-on-one consultation to better understand your body and choices to give you a meal plan that will reflect what you love with few compromises.
Nutrition is important to physical health because it is the fuel for your body, giving you an overall sense of wellness or lack thereof. This is why personal trainers put so much emphasis on making sure you are making healthy decisions in the dining room as well as the gym. Only when you master both of these arts can you be truly healthy. If the old adage of "you are what you eat" is in any way applicable, it is best to fuel your body with what personal trainers know is scientifically proven to help you maintain well-oiled machine. A personal trainer is a wise investment of your time, energy, and funds to ensure that you have long-term health.