If you live or work in Douglaston, Queens you will want to see the list of personal trainers in 11362 or 11363 shown here or enter another New York City zip code above to see a list of personal trainers available in your area.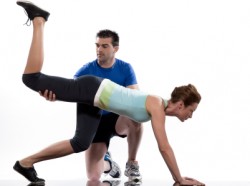 Losing weight and getting into better health isn't solely about working out. While cardio may do you some miraculous good, changing your diet is also essential to being able to reach your goals and maintain your health in the long-run. Douglaston personal trainers that are part of the NeighborhoodTrainer community recognize this, and spend their time helping give you the best results possible by creating a bespoke diet plan that is all based on your personal lifestyle.
Using a Douglaston personal trainer to help you exercise properly and get on a proper diet is essential in this day of age. With so many people cutting corners at the gym or using McDonald's as a treat for their workout, results are rarely seen except in the most dedicated and disciplined of exercisers. However, a personal trainer takes into consideration not only that you want to lose weight and get into better health, but also that you are a person who is, from time to time, going to want to indulge in order to satiate some cravings. Personal trainers will spend time with you to ensure that they help you make a diet plan that is realistic to your dietary choices and needs, whether this entails creating vegetarian or vegan menus, or helping you modify meals you already create at home to be healthier.
While you may have thought in the past that you have to pay for your gym membership to workout and a dietician separately, they all come bundled with the commitment to a personal trainer. Personal trainers have a high level of education in all things health-related to help them better practice what they preach – not only have these people mastered a level of discipline to help you achieve their level of results, they are also incredibly intelligent and are able to find joy in helping you workout to achieve your goals. Finding a personal trainer through the NeighborhoodTrainer community will help you find a personal dietician, gym membership, coach, and support system, all in one person.