If you live or work in the Hillcrest area of Queens you will want to see the list of personal trainers in 11365 or 11366 shown here or enter another New York City zip code above to see a list of personal trainers available in your area.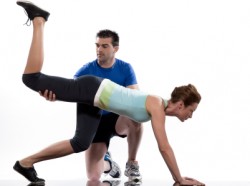 Hillcrest personal trainers are hard to come by, let alone finding quality personal trainers that are willing to dedicate their time and energy into making sure that you meet your goals. However, Neighborhood Trainers is an established chain of trainers that hires only the best professionals in the field to ensure that you receive a quality program that will help you reach your goals.
The benefits to having your own personal trainer in Hillcrest are numerous. First, personal trainers help you commit to your weight loss and health goals because they are involved in every aspect of your life; trainers help you format a training program that takes into consideration your daily schedule as well as your diet in order to make sure you are on track the entire time. In the same vein, a personal trainer is there to work for you. This means that trainers put their clients first on their lists of priorities. Individualized attention from a personal trainer allows you, in turn, to put less stress on forcing yourself to go to the gym every day and motivate yourself to get on the treadmill and lift weights. Trainers are worth the investment to ensure you reach your goals.
Secondly, however, personal trainers in Hillcrest are important to use because they are so readily accessible to you through neighborhoodtrainer.com. By browsing the company website, personal trainers can easily be matched to you so that you will find someone that will complement your goals best – whether you're looking for someone to motivate you like a drill sergeant or nurture you to your best self, these personal trainers are professionals from a variety of backgrounds who specialize in helping those in the Hillcrest area realize their ideal selves. With so much to benefit from and nothing to lose, why not try a personal trainer and see the difference of quality yourself?