If you live or work in Pomokok, Queens you will want to see the list of personal trainers in 11365 shown here or enter another New York City zip code above to see a list of personal trainers available in your area.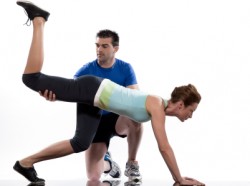 Many people in Pomokok shudder when the idea of hiring a personal trainer is brought up; the words "personal trainer," when put together, connote ideas of costly regimes and rude trainers forcing militaristic workouts on clients and implementing strict diets. While this may be the case of some trainers, the personal trainers of Pomokok that are found through Neighborhood Trainers are not anything like this stereotype. Intrigued?
As much as it may surprise you to learn it, hiring Pomokok personal trainers from Neighborhood Trainers is actually an inexpensive investment that you can make in your future health and happiness. Each personal trainer on the site charges their own rate by the hour or session, allowing you to search both within a specific price range as well as within a style of training. While a gym membership to a premium gym may cost upwards of hundreds a month, just a few meetings with a personal trainer will provide better results and give you dedicated assistance.
Dispelling the second myth about personal trainers is also necessary to help you understand exactly what a personal trainer can give you in the long run. Personal trainers, unlike popular thought, actually come in a wide variety of types and specialities. In allowing for monthly, six month, and one year plans with trainers, Neighborhood Trainers allows for its clients to take commitment a step at a time until they find what is really comfortable for them. One special feature, however, is that our organization also allows for clients to find trainers who will match their personality and goals best. Browsing through profiles, each biography will be a telling blurb about the trainer to help you see if they will be a good fit. However, with so many trainers available, there's someone geared towards everyone's different needs, guaranteed.
In weighing the costs and benefits of getting a personal trainer, it is clear that finding a trainer in Pomokok is a wise investment. Your goals are just a few clicks away.