December 31, 2017
Relearning to Stand Up from the Floor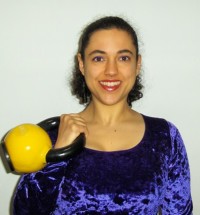 By Lisa Snow, personal trainer
In this holiday season when we are all focused on gratitude, one thing we often forget to be grateful for is mobility.  As we age, it can become harder and harder to get up from the floor.  If this is already a challenge for you, or for your parents or grandparents, this is a skill that can be regained!  People find it hard to get to the floor and come back up for a variety of reasons:
Balance – no matter how strong you are, if you don't feel steady on your feet, getting up without holding on can seem scary.  There are many aspects to balance – vision, inner ear (vestibular), cerebellum (the part of the brain that controls balance), kinesthetic awareness (i.e. feeling the floor with your feet), etc.  A regular exercise program can address many of these and help you feel more steady.
Strength – as we age, we lose some strength and muscle mass, but strength training – with weights, bands, or just your body – can help you maintain your strength for as long as possible, and make it easier to get up from the floor and low chairs.
Mobility – if it's been months or years since you sat on the floor regularly, you may have decreased mobility in your ankles, knees, hips, and back.  Regaining the range of motion in these joints will help you get up gracefully.
Confidence – fear of falling is a major issue for older adults.  Human nature is to believe that fear protects us, and sometimes it does.  (We all know the fear of being burned stops us from touching a hot stove!)  But a fear of falling actually makes us MORE likely to fall.  How?  People with a fear of falling move less (making them weaker and less mobile), shuffle more (shorter steps means more opportunities to trip and fall), and usually don't practice balance (so their existing ability level will decrease over time with disuse).
Many gyms offer classes specifically for older adults.  Lots of physical therapy offices have programs specifically on balance.  And some trainers have extensive experience with older adults working on fall risk reduction.  You don't have to go it alone!
My clients have different ability levels, different nationalities, different personality types, and have worked in different professions.  The one thing nearly ALL my older adults have in common is they tell me they waited too long to start working on balance and fall risk reduction!  Whether it's in a class or 1-on-1, the time to get started is right now.