If you live or work in Steinway, Queens you will want to see the list of personal trainers in 11105 shown here or enter another New York City zip code above to see a list of personal trainers training in your area.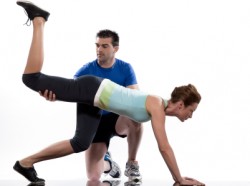 Three Reasons to Hire a Personal Trainer in Steinway
If you cannot decide whether or not you want to hire a Steinway personal trainer, maybe these three reasons will convenience you to go ahead and take that chance. Every single day men and women make their way here to neighborhoodtrainer.com to find a local personal trainer, and we're so glad that we can be of such great help. We really make it easier to find a personal trainer, as we understand how much of a challenge this can oftentimes be.
NeighborhoodTrainers offers a zip code search of local personal trainers. In just seconds you can find a great personal trainer who meets all of your expectations and then some. One of the reasons that you may want to hire a personal trainer is because you are not seeing results with the work out that you are currently doing. If you've been at it for months and are not making any progress, find out what a personal trainer can do for you.
Another reason that people visit us here at neighborhoodtrainers.com is because they want the encouragement and the motivation that the trainers offer. It is no secret that they are some of the best motivational sources you will ever find in your life, and they make it easy to accomplish each and every fitness goal that you put in place.
The third reason that you may want to hire a personal trainer is because you do not know the right exercises of techniques that you need to try to accomplish your goals. There is no question that the personal trainer knows just what you need, down to the right exercises to the diet.
These are three of the best reasons that you should not wait another moment to put NeighborhoodTrainers to good use for you. This is just the start of the ways that a personal trainer can come in and help you.