Back to Midtown East Training Gyms
Back to NYC Training Gyms A-Z

Velocity Sports Performance-NYC
133 East 58th Street(btwn Park and Lexington), 6th Floor
New York, NY 10022
Hours of Operation: Monday-Friday: 6 AM-8:30 PM, Saturday: 8 AM-2 PM
Services: Fully equipped functional fitness and training facility in the heart of Manhattan open to all independent trainers.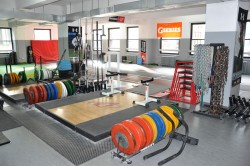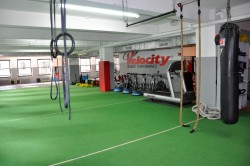 Amenities: Towels, lockers available for daily use and monthly rental, showers with soap/shampoo/conditioner dispensers, laundry service available, protein shakes and gatorade for sale.
Summary: Velocity Sports Performance is NYC's only speed, power, and agility training center that offers programs for everyone regardless of age, gender, and skill level.
Facility Review:
From Yelp-"Great local gym for those who are serious about working out.  This is not a place to come for cardio, although they do have one treadmill and some spin bikes.   The equipment is excellent and well kept.  Not your average "sports club"  You will find olympic-style equipment like kettle bells (heavy weight), heavy dumbbells, chains, lifting platform, hex bar, axle bar, sleds, sprint track, two squat rack, etc, etc.  They even have some Pilates equipment and TRX straps.   You need a personal trainer to enter and workout here.   For those without a trainer, they have some on site and also offer classes you can register for.
THERE IS A FREE FITNESS CLASS OFFER WHEN YOU CHECK IN ON YELP!!.  This gym has no frills – don't expect Kiehl's products or eucalyptus towels –  just a regular old gym to work up a sweat.  Serious athletes train here, but also some regular folks who are serious about weight training.  There are even some child athletes that work out here regularly.  The men's bathroom/locker room is tiny, but serves it's purpose.  There are two showers – shampoo, soap, conditioner, towel provided.  I've never seen the women's locker room so can't speak to that."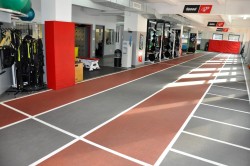 Rate for trainers: $30 per client, per hour.
Membership required? No.
Website/Social Media: http://velocitysp.com/nyc
https://www.facebook.com/VelocityNYC
https://twitter.com/VelocitySP_NYC
http://instagram.com/velocitysportsnyc
http://www.youtube.com/user/velocitysportsnyc
Phone: 212-593-3278,
Email: adrian.alvarez@velocitysp.com