March 15, 2017
Personal Training Grows in Brooklyn
Four personal training gyms visits in two and a half hours.  I knew it would be tight, but it worked out.
Last week I headed into Brooklyn, for what could be described as a whirlwind morning as I had scheduled three visits to gyms in Brooklyn that welcome independent personal trainers.  It seems that the sprawl of gyms welcoming trainers has spread across the river from Manhattan and into Brooklyn.  Of course, there have always been personal trainers in Brooklyn, but as more and more people, even the affluent, feel priced out of Manhattan the services they seek follow them to Brooklyn.
Given typical traffic conditions, my three-hour window was a lofty goal.  Thanks to proper planning and Waze, I was even able to squeeze in a fourth surprise visit to a gym in Queens.
How did I do it?
Before I headed to my first appointment, though, I checked the GPS and realized I was only about ten minutes from Vigorous Fitness Clubs in Queens.  The bonus was that with heavy traffic going to Brooklyn, a stop at Vigorous Fitness would only add three minutes to my trip.  Booya!  It had been almost two years since I did an article on Vigorous Fitness Clubs, so I wanted to stop in and say hello to Victoria Olivo and see what was new at Vigorous Fitness.  The place looked great and the energy level was just right for an intense workout.  Unfortunately, because of my impromptu visit, I arrived just as Victoria had started a class.  Even still, I walked away energized from the atmosphere.
And I wasn't close to done…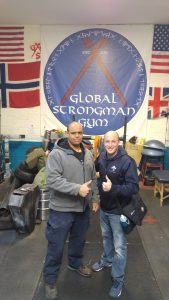 Then it was off to Global Strongman Gym to say hello to owner Hans Pirman.  Hans is very well known in the strongman community around the globe.  I hadn't seen him since he moved out of the former Global Strongman Gym space in Manhattan.  After a brief hiatus between spaces, Hans has been in this new space for about a year now.  And it didn't take long for his strongman followers to find him.  Given the additional square footage and his customer loyalty, I'd say it has been a positive move.  After leaving, I wondered how the movers moved all those cement balls, kegs, tires, and other various pieces.  I would have loved to see the looks on their faces.  I didn't get to ask him, but next time I will inquire.  I am sure it is a fun story.
And off I went…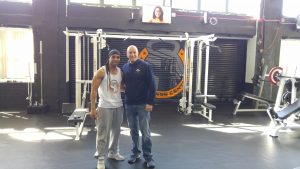 From there, it was about a 15-minute drive to the newest addition to the Brooklyn personal training community, BK Fitness Center.  Started by personal trainer Jreh Hurst, BKFS was built for trainers.  I was looking forward to meeting Jreh and hearing how he'd gotten to the point of opening his own gym.  Going from being a personal trainer who uses other gyms to train clients to being the gym owner who welcomes others is always an interesting story.  Jreh's transition was certainly inspiring and he put that inspiration into the facility he built.  BK Fitness Center is filled with the equipment trainers want and plenty of open space for when they don't want any equipment at all.
Last, but not least…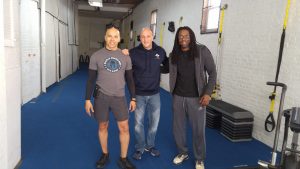 My final stop for the day, Triomph Fitness, was about a seven-minute drive away.  For the most part, parking had been pretty easy that day. Arriving at Triomph was the topper, though.  The spot was open just left of the gym entrance, which was wide open to let the day's sunshine in.  I was quickly greeted by Jack Gordon, one of the owners at Triomph.  Jack took me on a tour of the facility where I met his co-owner Lateef Oseni, who was working with a client.  This is their second home, as they moved from across the street a short time ago.  Space abounds at Triomph.  Tastefully done, Jack and Lateef have filled it with the tools personal trainers needs for one-on-one training, as well as several TRX stations for some small group training.  My favorite feature, personally, was the cushy flooring.  Perfect for so many reasons.
I managed to make it back in time for my afternoon appointments, but not before really getting a good taste of what Brooklyn offers personal trainers.  I know there are a few more places out there and I am sure more will be popping up in 2017 and 2018 as other trainers take steps forward in the evolution of their businesses.  If you know of any, feel free to reach out.  Here is the full list of NYC personal training gyms.