January 17, 2017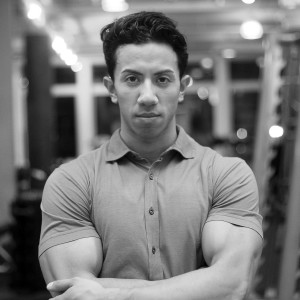 by Geo Chang, personal trainer

Avoid being those infamous resolution people we see year after year who join the gym in January, and are out by March 1st. Before you dive in to your nearest gym (preferably mine!), be warned that the road ahead of you is more about your mindset and outlook than it is about sets and reps.
Here are tips that I've learned over the year, to make this road to being healthy and fit sustainable and a serious lifestyle change, not just a seasonal fad.
1. Your home is your temple.
Get rid of 2016 crap. Oreo's and Teddy Graham's in the cabinets? Throw them out. Netflix? Cancel it. Metrocards? Ride a bike. The smallest changes such as sitting on a physio-ball in an upright posture while on your computer instead of on a La-Z-Boy chair can have big impacts.
2. Goal-Setting
The Fitness Legend Arnold Schwarzenegger once said "Vision creates faith and faith creates willpower. With faith there is no doubt, just absolute confidence in yourself". Set a long term goal, but also set a realistic short term goal, give yourself a chance to succeed. Build confidence first, then build results on top of it. Write them down!
3. The Appearance Trap
While seeing a drop in dress size, or an inch gain on biceps can be satisfying, it's really not enough motivation to keep coming back for months on end. Instead I always insist that my clients set performance-based goals. This way we track progress, and actually see ourselves getting closer and closer to our goals week to week, even if we can't actually see it.
4. Respect Workout Time
Treat your workouts like a very important meeting that you just cannot skip. If you put them at the bottom of your priority to-do list, they become easier to skip when it barely starts to drizzle or when your friends invite you to happy hour. DON'T SKIP THEM!
5. Recruit An Ally
Fitness does not have to be a solitary pursuit. If you're excited about your goals, having someone to share that excitement with, makes it more fun and more encouraging. This also ensures to keep yourself accountable.
6. Don't Just Start "Working Out"
"Failing to Plan is Planning to Fail". Time and time again, I see gym-go-ers aimlessly spinning while reading a magazine, or randomly jumping from machine to machine without any definitive plan. Not only can you hurt yourself but it is akin to spinning your wheels and go nowhere. Spend time researching existing plans or create one of your own. Make sure it fits your life so that you can actually follow it. You can also see me for a personalized training program custom tailored to your desire, goals, and attributes. First session is on me. 🙂
Happy New Year!
May all your wishes come true!
Geo Chang