November 14, 2012
Titan Fitness Studios
164 West 25th Street
2nd Floor
New York, NY 10001
(212) 206-0962
http://titanfitnessstudios.com
Occupying a bright and appealing second-floor space above 25th Street in Chelsea is Titan Fitness Studios, a boutique private-training studio. I recently had the opportunity to speak with owner Wally Oldham, and it's clear that he takes a great deal of pride in the business he's built over the past two years, the culmination of his long passion for and experience in fitness.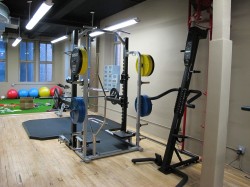 Although Titan doesn't have a lot of the redundancy in equipment common to most big box gyms, it offers everything that's available at your local NYSC or Equinox. TRX, specific cardio conditioning options (i.e., Versaclimber), cables, free weights, and kettle bells can all be found in abundance, and there is a large open area that is perfect for plyometric and other full-body training.
With this equipment and floor space, an endless number of combinations are available, so trainers can create interesting and creative workouts that focus on the underlying principles of exercise. And Titan is currently expanding into the first floor of the building, where it will have studio space and offer a full array of classes and boot camps. The new space is due to open early in 2013.
There are currently 48 independent trainers working out of Titan, but the boutique experience is enhanced by the fact that only 8 trainers are allowed to work with their clients at any one time—thus eliminating crowds and wait times for equipment.

Wally personally vets each trainer who works at the studio, ensuring that they meet his high standards of professionalism and experience. In addition, he expects them to be in sync with the Titan philosophy, which calls for a focus on the fundamentals of fitness in order to improve one's health. This is not a studio that's about bodybuilding or vanity; it's about an all-encompassing approach to being healthy that looks at not just lifting weights but also nutrition, flexibility, and overall fitness.
To that end, the independent trainers at Titan develop customized programs based on each of their client's individual needs. Titan partners with a certified nutritionist and a massage therapist, so you can create a well-rounded fitness regimen that includes nutrition, strength training, flexibility, and restorative treatments.
Wally is onsite daily and personally knows each trainer and client. He fosters the kind of friendly, all-inclusive atmosphere that is not often found at larger commercial gyms. Titan is a place where everybody really does know your name.
Titan's locker rooms are clean and well-stocked with high-end soaps and shampoos. It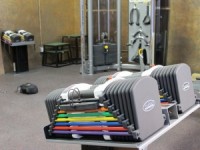 offers towel and onsite laundry service, and you can keep a private locker for a small monthly fee.
If you want to work one-on-one with a trainer who will tailor a fitness program to your needs, or if you're a trainer looking for a boutique gym with all the amenities and a focus on overall fitness, or if you're anyone who wants to work out in a friendly, inclusive environment, I encourage you to find your way to Titan.

Chris Granville is an ACSM certified personal trainer. A former NCAA Division 1 and professional athlete, he's a managing editor in book publishing and lives in New York City.