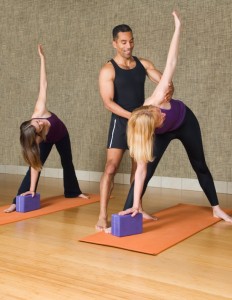 Finding a Pilates instructor in the Pilates Queens NYC community that caters to your exact needs used to take a grand effort. One has to decide what type of Pilates they are interested in, whether it be Stott, Power, or some other variation of Joseph Pilates' original vision. Additionally, one must take into account their own personal needs and preferences. Pilates instructors in Queens vary in their experience with different injuries, medical conditions, and goals. one might also be concerned with their potential instructor's gender, style, or price. The Pilates Queens NYC community is full of experienced and talented Queens Pilates instructors. The trick is finding the perfect one that meets your needs.
NeighborhoodTrainer.com seeks to empower you to do just that. We are an online community helping people find the perfect Queens personal trainer, Pilates instructor, yoga instructor, nutritionist, health coach, martial arts instructor, or group fitness instructor. Using various criteria, as mentioned above, you will be able to pinpoint the fitness professional that meets your needs and goals. Many people seek the services of a New York City Pilates instructor to help increase their flexibility and strength or to reduce stress. Pilates is a great way to do all of these, as well as maintain a healthy weight and a healthy lifestyle.
Enter your zip code above to find the perfect fitness trainer in your neighborhood.
Areas we service:
11101 11102 11103 11104 11371
11372 11373 11374 11375 11377
11378 11379 11355 11356 11357
11361 11362 11385 11364 11004
11411 11412 11413 11414 11415
11417 11418 11419 11420 11421
11422 11423 11424 11426 11428
11430 11432 11433 11434 11691
11692 11693 11694 11697
Queens neighborhoods we service:
Hunters Point Astoria Long Island City Ditmars Steinway Sunnyside
Woodside Jackson Heights La Guardia East Elmhurst North Corona Elmhurst
Maspeth Corona Ridgewood Middle Village Rego Park Forest Hills
Glendale Forest Park Kew Gardens Flushing Meadow Corona Park
Woodhaven Richmond Hill Ozone Park South Ozone Park Lindenwood
Howard Beach Old Howard Beach Broad Channel Breezy Point Roxbury
Heponsit Belle Harbor Rockaway Park Hammels Arverne Edgemere
Bayswater Far Rockaway Rosedale Brookville Springfield Gardens South
Springfield Gardens North Laurelton Cambria Heights St. Albans Jamaica
South Jamaica Hollis Queens Village Jamaica Estates Jamaica Hills Utopia
Hillcrest Kew Garden Hills Pomokok Fresh Meadow Oakland Garden
Bellerose Floral Park Douglaston Little Neck Alley Park Bayside Clearview
Auburndale East Flushing Queensboro Hill Flushing Murray Hill
Bowne Park Whitestone College Point