Enter Your Zip Code Above to see the Union County personal trainers available in your neighborhood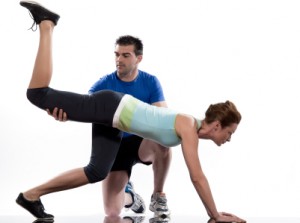 Being a Good Client for your Union County Personal Trainer
Your Union County personal trainer can do a lot of work on their own, but they can only do so much if you aren't cooperating with them. There are a lot of things that you can do in order to help make the process of becoming physically fit easier for both of you, but one of the best ways to do so is by being a great client for them. Here are some of the things that you can do in order to be a good client.
"Loved the site – made it very easy to find a trainer offering exactly what I was looking for."-GR
–          Focus on the task at hand. Sure, you can ask questions about a particular exercise and/or nutrition change, but overall, focus on what you are doing. If you talk too much, you can distract yourself and your Union County personal trainer from the task at hand. A good way to prevent this is by writing questions down before your session and asking your trainer when you first get there.
–          Eat before your workout. You don't want to cause your personal trainer additional stress by passing out during your workout. Even if it's just a snack, get something in your system.
–          If you realize that you're not going to make a session, give your Union County personal trainer a call at least 24 hours before your session so that you can cancel or reschedule the session.
–          A trainer is a guide, but they can't do everything for you. Schedule a meeting with your trainer if there are any concerns or you aren't seeing progress; part of their job is consulting with you, but sometimes you have to get the communication going.
Are you ready to be a great client for a Union County personal trainer? We've got all the resources that you may need for your search available here at neighborhoodtrainer.com.  No matter what your goals are, we can help you find Union County personal trainers that will fit your needs. Check out www.neighborhoodtrainer.com today and let us help you become the best that you can be.