January 13, 2013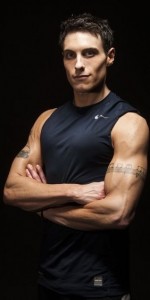 By Nick Brucker
NYC personal trainer, owner of Body Idol Fitness
Are you determined to meet your weight loss goals this year? If healthier habits and weight loss are among your new year's resolutions, give yourself a pat on the back for making Health a top priority! As we all know the hard part is actually sticking to it and making real changes and creating a lifestyle. I decided to jot down a few tips to help you keep on track with your weight loss resolution while keeping it off once and for all!
*Write Your Goals Down & Take Progress Pics NOW!*
If you want to truly do something, write it down! when you write something down it automatically gets transferred over from a thought, to reality. Journals of some sort, and to-do lists are extremely important to your weight loss plan, and many other goals. Brainstorm all of your goals onto one piece of paper and then rewrite each one as a promise to yourself that you can look at daily.
Set Up Guidelines/Deadlines
If you just say you're going to meet your goal sometime within the year, that will not work. In fact, you will probably fall into the "I'll start next week" trap. Instead, mark your calendar for a certain date for each goal that you want to achieve. Start small, even if its just replacing your white toast with wheat toast, or drinking more water, its following through that counts!
(To see why you can check out my video at youtube.com/bodyidolfitness on "Getting Better Results With This One KEY Factor, Guaranteed!")
Out Of Your Site, Out Of Your Mind
Keep foods that will you tempt you out of your house all together! Remember- establishing discipline is key for anything! By saying "No" to something when it calls your name will increase your likelihood of saying "No" in future predicaments Fill your kitchen with healthy, nutrient dense food, such as:
     *Lean protein (chicken breast, turkey breast, fish, egg whites)
     *Fresh fruits (oranges, apples, grapes, strawberries)
     *Raw vegetables (mushrooms, broccoli, squash, green beans, red peppers)
     *Healthy Snacks and Munchies(non-fat cottage cheese, sugar free jello, protein bar)
     *Bottled Water

Small changes+ Consistency = THE BIG PICTURE!                                                                Shoot for a new target every week and they will add up over time. It's easier to move little pebbles than an entire mountain, right? Here are some examples of weekly changes you could incorporate into mini-goals. If they apply to you, try to incorporate it in your new lifestyle.
Week 1: Prime your body by drinking 8-10 glasses of water per day, get 7-8 hours of sleep. Week 2: Take the steps at work instead of the elevator, or park farther away from work.                                                                                                                               Week 3: If you haven't engaged yourself in exercise, now is the time!                                  Week 4: Eliminate fried or breaded foods.                                                                             Week 5: Try to start surrounding yourself with fitness enthusiasts that can keep you inspired.
By incorporating the important tips above, you will have a better road map to succeed with your new year's weight loss resolution! I know, it's "easier said than done," which lead me to creating The 90 Day Transformation Challenge for all of you that need that extra guidance on exercise and proper nutrition for an affordable price. It will be starting on January 28th, 2013! For more details please check out my website at http://www.BodyIdolFitness.com or contact me directly.