Return to Midtown West personal training gyms
Return to NYC personal training gyms A-Z

Fit Factory NYC
153 West 27th Street, #201
New York, NY 10001
(212) 206-7652
fitfactorynyc@gmail.com
Hours of operation:
MON -FRI 6:30AM – 9:00PM
SAT 8AM-2PM
SUN – CLOSED FOR WINTER WILL START IN JAN 2014
Services – OFFERING TRAINERS A LOCATION TO GROW THEIR BUSINESS THROUGH GROUP FITNESS, SMALL GROUP AND PERSONAL TRAINING. 
Amenities -BATHROOMS, 1 SHOWER, CHANGE ROOMS, TOWELS, WATER, POWERADE, LUNA BARS, BLOW DRYERS, SHAMPOO, CONDITIONER, BODY WASH & LOTION
About Us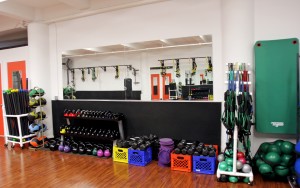 Fit Factory NYC consists of 2 boutique fitness studio located at 153 west 27th St suite 201 between 6th & 7th ave in NYC. We are a division of Pace For Success Inc a fitness company owned by Jasmine Graham and dedicated to building your inner athlete.  We opened in September 2012 and we are offering Fitness Professionals a location to train clients through personal training sessions, small group training sessions and group fitness classes. We are launching our 2nd studio on 10/9 /13 next door to our main studio and we are calling it Studio B.
Our studios are equipped with TRX, kettlebells, body bars, glides, free weights, resistance bands, pull up bars, BOSU's, steps, 50 lb bag, plyo boxes, pods, agility tools, jump ropes, yoga mats & exercise mats. We also have a shower and 2 change rooms. Water, sports beverages and nutrition bars are available for sale. 
We are also available for video's, seminars and photo shoots. Television networks also use our studio for various shoots due to the exclusiveity & privacy that we offer. Networks include VH1 and the OWN network.
Rates: Click here
Client Membership required? No
"Training at Fit Factory has been a delight since the first day I walked in and met the owner, Jaz. She is very professional and accommodating of your needs and your clients' needs. She continually ensures that both you and your clients have an excellent experience each time you enter the studio. It is always clean and staffed by courteous, knowledgeable people with a passion for health and fitness. In addition to that, all of the independent trainers who utilize the space are very polite and respectful in respect to using the space. There is always an air of acceptance and comfort there- I highly recommend it!"