Enter your NYC zip code to see a list of Brooklyn personal trainers in your area.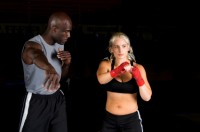 The Brooklyn personal training community is thriving. There are many talented personal trainers to choose from. In the past, selecting the best Brooklyn personal trainer was a tedious task one undertook with trepidation. Whether you are looking for an expensive or cheap personal trainer Brooklyn, the process was a time consuming project. Nowadays, technology has made locating what you need a lot easier. That includes finding the Brooklyn best personal trainer or fitness instructor to suit your needs. You have many options, such as the local gyms, but then you are beholden to the business and limited to training with staff trainers. Wouldn't it be great if there was a website that empowered you to choose the Brooklyn best personal trainer to fit your needs? Now there is and you have stumbled upon it.
As an online community of fitness professionals, NeighborhoodTrainer.com allows people to match their needs with a personal trainer, nutritionist, yoga instructor, or instructor of Pilates Brooklyn NYC. Simply by entering your zip into the box at the top of the page, you will quickly see a list of the fitness professional servicing your area. If you choose, you also do an advanced search to compare your special needs and preferences to the available trainers' skills. Specific goals, medical conditions, injuries, and training styles are just a few categories you can use to find your perfect trainer. Even rate ranges can be chosen if you need to find a cheap personal trainer Brooklyn. Don't click away, because your perfect Pilates Brooklyn NYC instructor could be here waiting to here from you.
Areas we service:
11201 11203 11204 11205 11206 11207 11208 11209 11210 11211
11212 11213 11214 11215 11216 11217 11218 11219 11220 11221
11222 11223 11224 11225 11226 11228 11229 11230 11231 11232
11233 11234 11235 11236 11237 11238 11239 11251
See All NYC Personal Trainer Pages By Zip Code
Brooklyn neighborhoods we service:
Bay Ridge? Bedford-Stuyvesant? Bensonhurst? Bath Beach? Boerum Hill? Borough Park?
Brighton Beach Brooklyn College? Brooklyn Heights? Brooklyn Navy Yard? Brower Park?
Bushwick? Canarsie? Carroll Gardens? Clinton Hill? Cobble Hill? Columbia Heights?
Coney Island? Crown Heights? Cypress Hills? Ditmas Park? Downtown Brooklyn? DUMBO?
Dyker Heights? East Flatbush? East New York? Flatbush? Flatlands? Fort Greene?
Fort Hamilton? Gowanus? Gravesend? Greenpoint? Greenwood ? Homecrest?
Industry City Bush Terminal? Jamaica Bay? Kensington? Kings Highway Kings Plaza
Madison? Manhattan Beach? Marine Park? Midwood? Mill Basin? Park Slope
Parkville? Prospect Heights? Prospect Lefferts Gardens? Prospect Park South? Red Hook?
Sea Gate? Sheepshead Bay? Starrett City? Stuyvesant Heights? Sunset Park? Vanderveer?
Vinegar Hill? Weeksville? Williamsburg? Windsor Terrace? Prospect Park Brownsville