NeighborhoodTrainers Releases Free eBook Offering Business And Marketing Tips For New York Personal Trainers
The new eBook provides personal trainers with important tips to develop their business and increase their client base.
Glenn Dickstein, the founder of NeighborhoodTrainers has today announced the launch of a new free eBook that provides business and marketing tips for New York Personal Trainers. Neighborhoodtrainer.com, which helps New York residents become healthier and fitter by matching them with professional personal fitness trainers and coaches is making the book available through email by contacting gd@neighborhoodtrainers.com.
NeighborhoodTrainer.com, which has become one of the most important websites for people wishing to become fitter and healthier and for those in the fitness industry looking to increase their profile has launched the book to help fitness instructors improve and develop their business.
Glenn Dickstein from NeighborhoodTrainers said: "I wanted to release a book that would help fitness trainers who are mainly running a small business to learn the skills it takes to market their business in a positive light."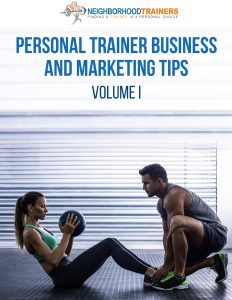 The free eBook titled Personal Trainer Business and Marketing Tips Vol 1 has gained a great deal of attention. It has received positive reviews from those in the fitness industry.
"Very inspiring," says personal trainer and gym owner Adam Shuty
With over 15 years of experience behind him, Glenn Dickstein has shared important tips that can help New York fitness trainers to gain new clients and increase their referral rate.
There has never been a better time to become a fitness trainer in the USA or New York with more people worried about the increase in obesity and concerned about their health. However, it means with the influx of new personal trainers in New York all looking to gain clients it has made the fitness industry fierce and makes it more difficult to stand out. That is why NeighborhoodTrainers has become so important for fitness trainers; it provides them with the right tools, exposure, and advice to make their business a success.
"NeighborhoodTrainer.com provides personal trainers in New York with the right exposure they need to gain new clients. We have become one of the most popular resources for those looking to lose weight and become fitter, and by being listed on our site helps those in the fitness industry to gain clients and achieve a profitable business," said Glenn Dickstein.
To learn more about the New York Fitness directory, please visit NeighborhoodTrainer.com or to receive the free eBook, please contact gd@neighborhoodtrainers.com
About NeighborhoodTrainer.com
Since 2010, NeighborhoodTrainers is the premier online NYC fitness directory for finding the personal trainers in New York City, Pilates instructors in NY, yoga instructors NYC, massage therapists, nutritionists, & health coaches.
Media Contact
Company Name: NeighborhoodTrainers
Contact Person: Media Manager
Email: gd@neighborhoodtrainers.com
Phone: (646) 924-6216
State: New York
Country: United States
Website: http://NeighborhoodTrainer.com
MEDIA RELEASE
FOR IMMEDIATE RELEASE
Dec. 31, 2013
NeighborhoodTrainer.com Bulks up for 2014 with More Than 120 NYC Independent Trainers
New York City – Celebrating the beginning of its fourth year of making New York City residents both happier and healthier, NeighborhoodTrainer.com is ready to help a new group of New Yorkers interested in making fitness a priority in 2014. The NeighborhoodTrainer community now showcases more than 120 independent trainers specializing in personal training, yoga, Pilates, nutrition and more.
NeighborhoodTrainers believes that "everyone who wants to live a healthy lifestyle deserves the opportunity" and offers highly skilled trainers across a variety of disciplines and local zip codes. Clients can match up with their perfect personal trainer in their zip code, making fitness more convenient.
"Every year, health, fitness and weight loss top the New Year's resolutions chart," said Glenn Dickstein, founder of NeighborhoodTrainers. "This community offers everyone a chance to select the perfect fitness professional who will come right to your door, help you address your specific fitness needs, and hold you accountable for your progress. It's personal, flexible and really effective."
The personal trainers and instructors profiled in the NeighborhoodTrainer community have earned top reviews on Google, Yelp and from clients who have been able to achieve and exceed their health and fitness goals, including building muscle, training for events, losing weight and more. Both personal trainers and individuals looking to tackle a healthy New Year's resolution can visit www.neighborhoodtrainer.com to make a fitness connection. The site is easy to search by location or interest.
"The New Year is a perfect time to refocus on health, fitness and wellness. When you are healthy, you feel better, look better and live better. NeighborhoodTrainers offers trainers in every New York City neighborhood throughout Manhattan, Brooklyn, Queens, Staten Island, and the Bronx, dedicated to changing and enhancing lives," Dickstein added.
About NeighborhoodTrainers
Founded in 2010 by Glenn Dickstein, a personal trainer, distance runner and fitness sales pro, NeighborhoodTrainers connects personal trainers in a variety of disciplines with clients in New York City. Both trainers and clients looking for fitness help can visit the site to learn more, connect and make fitness a priority. For more information, please visit www.neighborhoodtrainer.com.