Enter your NYC zip code above to see a list of Manhattan personal trainers in your area.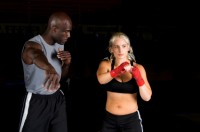 Why Patience is Important in a Personal Trainer
Patience and personality are two of the most important traits that you want to seek out when you are looking for a Manhattan personal trainer to work with. The client-trainer relationship is one of the most interesting relationships that you will ever be in. If you "click" well enough, you will be close while still staying professional; motivated without being intimidated; and you will have a lot of fun while doing it. Let's take a closer look at these two important character traits in personal trainers in Manhattan.
"Your website was very easy and functional… I really like the whole zip code concept. It is very convenient and saves time looking for a trainer."-MG
Patience is important because it helps to build trust between the client and the personal trainer in Manhattan. This patience can come out in a number of ways; adapting the workout for the client because of physical limitations, taking time when the client is worried about pushing too hard, and adjusting the schedule or workout as necessary so that the client can succeed. A good personal trainer will be able to abandon any of their own agenda so that their client can do what needs to be done without a lot of stress or anxiety.
Your personal trainer's personality should also come into play here. Are they warm and friendly? Are they able to motivate you to move forward instead of scaring you away from the experience? Do they talk to you like you are a human being instead of as just a client? You need to determine what personality traits are important to you before you start your search for a personal trainer.
So, are you convinced that you want to work with a personal trainer in Manhattan? We have plenty of resources available to help you choose a trainer. We have done all of the research to provide you with everything you need in order to find and choose between Manhattan personal trainers. Check out neighborhoodtrainer.com today for more information.
Areas we service:
10001 10002 10003 10004 10005 10006 10007 10009
10010 10011 10012 10013 10014 10016 10017 10018
10019 10020 10021 10022 10023 10024 10025 10026
10027 10028 10029 10030 10031 10032 10033 10034
10035 10036 10037 10038 10039 10040 10065 10075
10128 10280
10115 10162 10103 10104 10105 10106 10107 10110
10111 10112 10120 10118 10119 10121 10122 10041
10123 10151 10153 10154 10155 10156 10055 10165
10166 10167 10168 10169 10170 10171 10172 10173
10174 10175 10176 10177 10178 10158 10278 10279
10270 10271 10281 10282
See All NYC Personal Trainer Pages By Zip Code
We service the following NYC neighborhoods:
Alphabet City Ansonia Astor Row Battery Park City Bowery
Carnegie Hill Central Park Chelsea Chinatown Civic Center
Columbus Circle East Harlem Financial District Flatiron Garment District
Gramercy Park Greenwich Village East Village West Village Hamilton Heights
Harlem Hell's Kitchen / Clinton Herald Square Inwood Kips Bay
Lenox Hill Lincoln Square Little Gramercy Little Italy Lower Manhattan
Lower East Side Madison Square Manhattan Valley Meatpacking District Midtown
Morningside Heights Murray Hill NoHo NoLita Peter Cooper Village
Roosevelt Island SoHo South Street Seaport Spanish Harlem Stuyvesant Town
Stuyvesant Square Sugar Hill Sutton Place Theater District Times Square
Tribeca Turtle Bay Union Square Upper East Side Upper West Side
Washington Heights Wall Street Yorkville