If you live or work in Flushing, Queens you will want to see the list of personal trainers in 11351, 11352, 11354, 11355, 11356, 11357, 11358, 11359, 11360, 11361, 11362, 11363 or 11390 shown here or enter another New York City zip code above to see a list of personal trainers training in your area.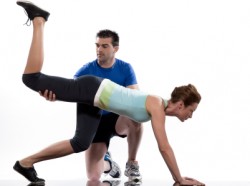 Thinking of getting a personal trainer in Flushing, but not sure if its right for you? Landing on neighborhoodtrainer.com may have been the best thing to happen to you today so far. This community allows you to safely explore the options of personal training in a friendly way.
Working out on your own is a drag, but taking a friend may be daunting because you don't want them to see you in this state of working out. A Flushing personal trainer seems like a happy medium between these two areas, but you're still indecisive. The fact of the matter is that a personal trainer can help anyone in any of their fitness goals, no matter their differences. Having received extensive education covering the entire range of the human body through age and fitness level, personal trainers are able to understand how differently aged bodies may need different types of workouts in order to work most effectively. By synthesizing this information with your personal information, the customized workouts and diets that are given to you by a personal trainer are ideal for you and will give you the edge you need to reach your optimal health. Personal trainers take into consideration your lifestyle, health conditions, and time commitments in order to maximize your success and give you the best physical and mental results. By browsing through profiles of personal trainers, you will be able to pick someone you know you can mesh well with and have an intimate relationship with in the future.
If you're still unsure about whether or not to invest in a personal trainer, consider doing an hour-long session or consultation with one in order to see if it will be the right fit. With so many different types of personal trainers out there, there is bound to be someone that can partner with you to help you lose the weight and motivate you to get healthy and active.