If you live or work in the Jamaica area of Queens you will want to see the list of personal trainers in 11405, 11411, 11412, 11413, 11414, 11415, 11416, 11417, 11418, 11419, 11420, 11421 or 11499 shown here or enter another New York City zip code above to see a list of personal trainers training in your area.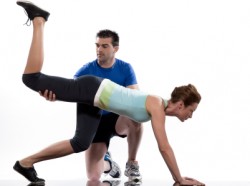 A Jamaica Personal Trainer Can Help You Be Motivated
Motivation is probably one of the most difficult things when it comes to fitness and wellness. We have a hard time getting up in the morning and going to the gym, or we start to struggle because we don't see results very quickly. No matter what your breaking point may be, we all have some problems with motivation.
One of the main reasons that you may want to consider hiring a Jamaica personal trainer is that they can help you to keep motivated on a regular basis. Did you know that most people who try to get in shape actually quit in less than a year? Most times, people will just give up their fitness goals within the first six months. If you're working with a personal trainer, they can help keep you on track and motivated for a couple of different reasons.
First, you're paying for them. It sounds silly, but sometimes, paying money is enough of a motivation for you to continue doing what you are doing. If you cancel on them on a regular basis, then you could end up violating the contract and they may drop you as a client as well. They can also help to push you further, even when you don't really feel like doing it. Jamaica personal trainers are trained in ways to motivate you, and they will not hesitate to figure out what motivates you and use it in order to help you stay motivated throughout your entire training program.
So, if you think you're ready to work with a Jamaica personal trainer, make sure to input your zip code and take the time to check out all of the different Jamaica personal trainers that we have here on Neighborhood Trainer for you to consider hiring. Good luck getting motivated and starting your journey.