See a list of North Riverdale yoga instructors available in your Bronx, NYC neighborhood zip code.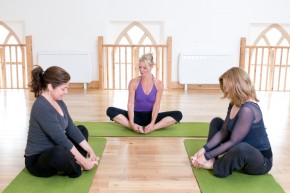 Choosing the right North Riverdale yoga instructor and/or yoga studio is paramount to achieving results and continued success in a yoga program. The mental and physical benefits of yoga exercises combined with the focus necessary to complete them correctly, drives many residents of the North Riverdale area of the Bronx to yoga classes. For those in the New York City's North Riverdale area that do not have the flexibility to follow someone else's schedule, NeighborhoodTrainer.com has a solution. NeighborhoodTrainer.com empowers you to find a yoga instructor in North Riverdale and throughout The Bronx. Yoga instructors post their profiles on NeighborhoodTrainer.com for review by potential clients.
5 Benefits of Yoga, according to the Mayo Clinic
• Stress reduction. With its quiet, precise movements, yoga draws your focus away from your busy, chaotic day and toward calm as you move your body through poses that require balance and concentration.
• Increased fitness. As you learn and refine new poses, you may enjoy improved balance, flexibility, range of motion and strength. And this means you're less likely to injure yourself in other physical endeavors or in your daily activities.
• Management of chronic health conditions. Yoga might help with a variety of health conditions, such as cancer, depression, pain, anxiety and insomnia, by helping with sleep problems, fatigue and mood. Yoga also can help reduce heart rate and blood pressure.
Weight control. If you're overweight or have binge-eating disorder, yoga may help you make the healthy lifestyle changes necessary to gain control of your eating.
NeighborhoodTrainers fitness professionals list their qualifications, information about services, skills, experience, and operating area. NYC yoga instructors can be found for nearly every zip code in Manhattan, Brooklyn, Queens, Staten Island, and the Bronx, representing all forms of yoga teachings and a wide range of pricing options. Visitors to the website will simply enter some information about their location and services requested, resulting in a list of potential instructors. Yoga instructors in The Bronx are listed on the site with small biographies and detailed descriptions of available services. Profiles leave little to the imagination for potential clients, providing information on cost, languages spoken, insurance certifications, notable achievements or qualifications and zip codes where meetings can be arranged. The convenience of a yoga instructor in The Bronx coming to a private residence for sessions eliminates much of the collateral expense and stress associated with getting to the gym or facility at specific times. Rather than gambling on traffic, lugging a yoga mat around all day and dealing with a crowded room, using NeighborhoodTrainer.com brings the yoga instruction to the client.
If you are a NYC yoga instructor and work with clients in North Riverdale, consider listing your profile on NeighborhoodTrainer.com today!
Bronx personal trainers
Bronx pilates instructors
Bronx yoga instructors
Bronx nutritionists
Bronx health coach
Bronx Massage