February 4, 2016
By Lisa Snow, personal trainer
Whether you've had plantar fasciitis, an ankle injury, or just want to take your calf and ankle flexibility to the next level, stretching at the end of your workout can be helpful.  Stretching the calf muscles (gastrocnemius and soleus) only takes a few minutes and doesn't have to be boring!  Anything that brings the toes and ball of the foot up towards you (the opposite of pointing your toes) will stretch the calf.  Here are 3 easy ways: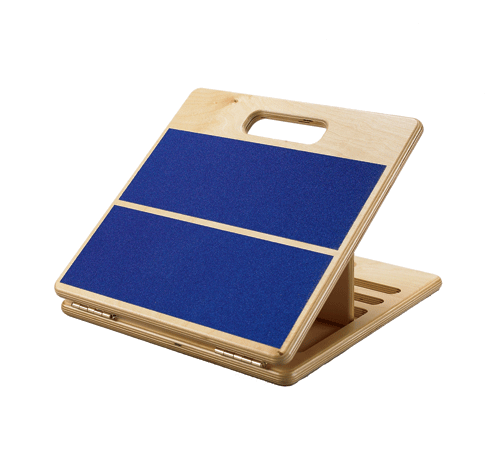 Use a "Slant Board."
 This is a wood wedge with a nonstick coating.  It lets you stretch one leg at a time (perfect for people with injuries or imbalances) or stretch both legs simultaneously (great if you are pressed for time).  A slant board is also a good option for someone with poor balance who feels unsteady using other calf stretch gadgets, or someone who gets vertigo leaning over / being upside down in positions like downward dog.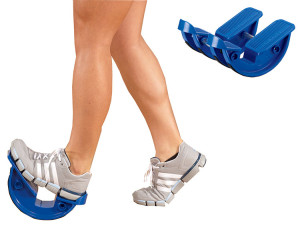 Try a "Pro Stretch."
  This durable plastic gizmo found at many gyms lets you stretch one leg at a time, which is very helpful for people who've had foot or ankle injuries.  Less expensive than a slant board, it's also a great option for runners, dancers, cyclists, or anyone who puts a lot of strain on their calves.
Skip the equipment, and go for a Downward Dog.  If all you have is a mat, the classic yoga pose called Downward Dog is a wonderful way to stretch the calves.  While you're at it, you'll be strengthening your shoulders.  Plus proving to yourself that you don't need to be extremely flexible to be able to do this and plenty of other yoga poses.
With any of these stretches, try to hold still for 30 seconds – 1 minute for 2 sets.  If you're doing 1 leg at a time, remember to do each side twice.
Lisa Snow is a Manhattan personal trainer specializing in senior fitness and post-rehab for all ages.