March 16, 2016
By Judy Kuan (NASM-CPT, NASM-CES, RYT-500)
Spring in New York is a glorious time of year, but it does come with its special set of stressors. Dreading tax season? Kids going stir crazy in the apartment on a rainy weekend? Do the following three calming yoga moves, recommended by personal trainer and yoga teacher Judy Kuan, and let your calm and focus shine bright. Stress, stress, go away, come back another day!
3-part yogic breathing: This is how I start almost every yoga class and private session that I teach.
Close your eyes, and as you breathe in, you expand your abdomen, diaphragm/ribcage area, and upper chest, pulling in as much fresh oxygen as possible. Then you reverse the flow as you exhale completely. You can do this when you're sitting in a chair or on the ground – just make sure your spine is nice and upright. Slowing your breathing will help you slow your mind, lower your blood pressure, and allow you to hone your focus.
If you want to feel balanced, keep of the lengths of your inhales and exhales the same (For example, inhale for 8 counts, exhale for 8 counts.)
If you want to calm down, you can lengthen your exhales to take more time than your inhales. (For example, inhale for 4 counts, exhale for 8 counts.)
If you want to energize, you can lengthen your inhales to take more time than your exhales. (For example, inhale for 8 counts, exhale for 4 counts.)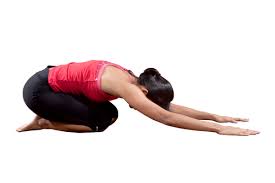 Child's pose
: This is very much a calming, inward-focusing pose. Kneel on the ground and fold your torso over until your forehead is resting on the ground. Extend your arms on your mat, reaching away from your head. This fosters lymph movement as you open up your chest and underarms, where a lot of lymph nodes are located.  If the front of your thighs are too tight and your hips cannot rest on your heels, simply place a cushion or rolled-up blanket behind your knees.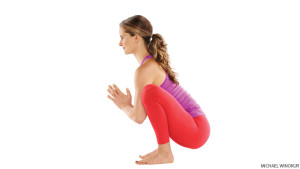 Malasana
(low squat): Open up your hips and feel more grounded in this low squat posture. Once in position, close your eyes, and take 10 very slow, deep breaths, feeling your mind settle. Here's a link to the pose instructions with photos. This pose invokes a sense of relief, because it opens your hips, which can tighten up from sitting in a chair too long, and lengthens your calves, which can shorten from wearing heels – without requiring as much balance or flexibility. It's also a great leg-strengthening exercise, and I incorporate this pose into all of my prenatal yoga classes and sessions with private clients.
Trainer Bio: Judy Kuan is a NYC-based personal trainer and yoga instructor who coaches healthy growth for individuals, companies, and communities. She is the founder of Fitphile.com. Judy is a NASM-certified personal trainer and corrective exercise specialist, a RYT-500 hour yoga instructor, a 1st degree blackbelt in TaeKwonDo, and the founder of the Kick-HIIT(TM) workout. She is also a pre-natal/postpartum exercise specialist, and an expert in kids fitness.