February 10, 2015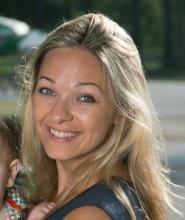 By Jessica Milliken, personal trainer
My first three years as a personal trainer, I volunteered weekly in Physical Therapy clinics.  I sharply observed doctors entangle themselves in patients with repetitive movements and teeth clenching pain.  Strengthened, they'd overrule scar tissue, and exchange stagnancy for mobility.
Unfortunately, it seemed the majority of those with back injuries didn't know the middle ground between therapy exercises and their preferred workouts.  They'd graduate from PT, resistance band in hand, and shove their sheet of a half dozen quadrupeds and planks into a drawer.
Then, they'd stop moving entirely, or three months later, try a popular new routine, like CrossFit.  By the time they got to me, they'd repeated their injuries, or added shoulder strains and tendon tears- created by avoiding use of their back.  Others were out of shape and afraid to exercise.
The reason I've always kept close to clinics is to help these scenarios.  I try to pick up where the doctor stops, so there's an open dialogue between us, and everyone is clear on the healing process.  Taking months off between PT and training can be risky.  But having a trainer who didn't ask enough questions is even riskier.  If you have a back injury, asking your PT for a trainer referral, and staying in touch with both of them about your progress is essential.
Post rehab fitness should be exciting!  Becoming functional again, and seeing how miraculous the human body is when given the right tools to repair itself, is nothing to avoid.  It's no secret how to rebuild the core and keep it healthy.  Most gyms and fitness studios have all the needed equipment like medicine balls, rows, TRX, lat pulldowns, leg presses, and Bosu's.  There are also smartphone apps now, with detailed diagrams and approximate timelines for healing.
If you have a post rehab prescription from a PT:  Talk to your trainer about your goals, use an app with diagrams to identify the injury and surrounding musculature, and track your progress together in detail- so if you aren't improving as planned- you can bring exactly what you've done, how often, and when, on paper back to your PT…  Lets get your 'back' on track.
Here's an app I've used with clients to discuss their injuries, stretches, and exercises:
http://www.myinjuryapps.com/