December 19, 2015
By Lisa Snow, personal trainer
If you're experiencing back pain or joint pain, the very first step is going to your doctor for a diagnosis.  Once you know what's really going on, you can make an informed decision about whether to work with a physical therapist, a chiropractor, an acupuncturist, a personal trainer who specializes in post-rehab, or-more likely-some combination.  In addition to working with medical professionals, what can you personally do right now to feel better?
Focus on anti-inflammatory foods

Sugar, corn syrup, and deep fried foods increase inflammation, often exacerbating pain and slowing healing from injuries.  However, many other foods actually reduce inflammation and can help you get even better results from the hard work you are doing in physical therapy or with a personal trainer.  For example: the golden spice turmeric (found in some curries), dark green vegetables like kale, and high antioxidant nuts like almonds and walnuts.
Consider working with a massage therapist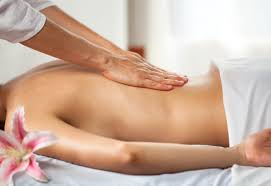 When most people picture massage, they think about going to the spa once every year or two to relax.  But did you know massage can actually help you recover from injuries more quickly?  Massage helps people improve posture, increase circulation, and reclaim their flexibility.  A Licensed Massage Therapist can be a great ally on your mission to become-and stay-pain-free.  Just like exercise, massage is cumulative.  Someone scheduling regular weekly or monthly sessions with a therapist will have more lasting results than someone who does a one-off massage.
Be open to all the things you CAN still do
While your doctor may give you a list of contraindicated exercises, there are likely plenty of movements you can still perform safely.  For example, if a back injury has made sit-ups a no-no, you may still be able to strengthen your core with planks.  If a shoulder injury has your doctor saying "no overhead lifting," you may still be able to strengthen your upper back and shoulders with other exercises like rows.  Whether it's with a personal trainer, a yoga teacher, or by yourself, keeping moving can speed your recovery and help you regain trust in your body.