December 10, 2012

Atomic Total Fitness
120 East 57th Street
New York, NY 10022
(917) 734-5174
Contact: info@atomictotalfitness.com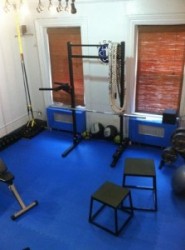 Perched above a café in the heart of Midtown Manhattan is Atomic Total Fitness, a private training studio. It's on the fourth floor of a former residential building, and climbing the stairs, I was reminded strongly of visiting a friend's apartment—a feeling that was reinforced by a warm greeting from Atomic's founder, Adam Shuty.
Atomic's emphasis is on a focused, one-on-one training experience. Adam, who has a background in college athletics and over ten years of training experience, is well known in the New York fitness community, and most people who come to Atomic do so for the express purpose of working with him. It's worth noting, however, that as an alternative (or addition) to one-on-one sessions, trainer Lisa Snow leads customized group fitness classes for Atomic clients.
Adam founded Atomic in 2009. In the years since, he's discovered that it provides not only the opportunity to focus deeply on his clients' needs, but also a forum to express his philosophy that good health is the first step towards a more fulfilled life.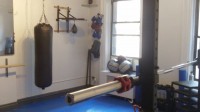 Atomic is a bright, clean, well-organized space, and it certainly isn't lacking in equipment. There are numerous options in weights, kettle bells, and racks. Hooks in the ceiling allow you to set up TRX. There is a collection of boxing equipment, medicine balls, and many other options that make for creative and engaging workouts.
In addition to the more traditional workout equipment, Atomic has a room dedicated to Gyrotonic equipment. I spoke to one of the trainers who is certified to use these machines, Kathy Alcoba, and she informed me that these custom-built machines use a pulley system to allow users to stretch and strengthen muscles while simultaneously stimulating and strengthening connective tissues in and around the joints of the body.

Atomic also offers all the amenities you would expect to find at a private studio: a clean locker room area, towel service, and a space to store your gear.
Adam has built Atomic based on his expertise and years of training experience, and the studio is centered around his work as a trainer. However, it's constantly evolving—there are now group classes at Atomic, and more trainers beginning to work in the space alongside Adam.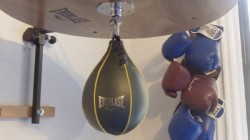 I'm looking forward to seeing how Adam continues to grow his studio and expand into new areas of fitness. No matter what, though, I have no doubt that the core of Atomic will always be Adam and his dedication to a holistic approach to training that helps people improve their outlooks and their lives.
Chris Granville is an ACSM certified personal trainer. A former NCAA Division 1 and professional athlete, he's a managing editor in book publishing and lives in New York City.