March 25, 2017
Last week, I made my first trip into Brooklyn to see one of the newest independent personal training gyms in New York City, BK Fitness Center.  Finding a new gym that welcomes independent trainers is always welcome news, so I like to find out about them as soon as possible so that I can share the news.  Finding it in Brooklyn was even bigger news.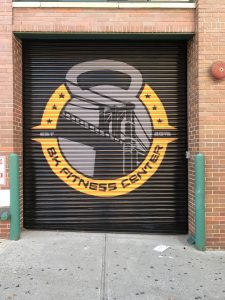 BK Fitness Center is located on the ground floor of an office building, so the entrance was at the back of the lobby. However, it was easy to spot with the extra-large logo painted on the outside of the garage gate.  The gym was the vision of trainer, Jreh Hurst.  After years of honing his skills at the big box gyms and then as an independent trainer, Jreh sought to create an atmosphere that independent trainers, like him, would feel welcome and their clients would enjoy their experience, too.  In my opinion, he made that happen.
"I wanted to open a gym to allow myself as well as other trainers the freedom and space to be able to build new and existing client relationships without having to "sell the gym" and their philosophies"
Jreh greeted me almost immediately when I entered.  He was just finishing up his own workout and welcomed me with a handshake and a smile.  We walked slowly around BKFC as Jreh shared his story.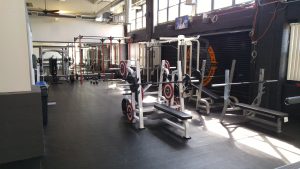 After an exhaustive search in which he almost called for an intermission, Jreh was prodded by the real estate agent he was working with to look at one last space. That space became BK Fitness Center.  Jreh moved his vision into a 3,000-square foot, open, u-shaped, ground floor spot.  There is ample space to hold class, as well as have plenty of one-on-one training going on simultaneously.  If you have ever been concerned about encroaching on another trainer-client training session, that will not be a problem here.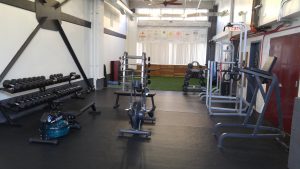 Jreh seems to have made some great decisions with regards to outfitting BKFC.  He managed to create ample space for a push sled and ropes, plus other fun pieces on one side of the gym.  A climbing wall is on the way, too.  As you turn the corner, you will run into more of the heavy equipment.  The racks, benches, cable machines and cardio machines well positioned to maintain ample space to move.  You'll also discover that Jreh is a super hero fan, as some of the barbell plates are emblazoned with the Captain America symbol –a personal touch he had to have.  The area is also complete with a complement of dumbbells, TRX and a boxing area.
BK Fitness Center has more equipment than you may see in most personal training gyms, because there is also a membership option.  This creates two opportunities for trainers.  First, the plethora of equipment, I think, allows trainers to constantly vary client workouts.  Second, there will be an opportunity for trainers to introduce themselves to members who don't have trainers…yet.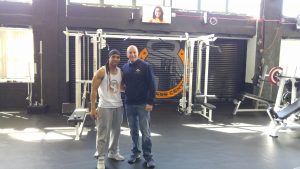 BK Fitness Center welcomes independent personal trainers looking to train clients one-on-one or small group training.  As I said before, BKFC is built for trainers.  All the creature comforts are there to create a pleasant experience for both trainers and clients.  A trainer could easily plant business roots at BKFC and feel at home. There is space for your belongings, towels, bottled water and snacks for both and a place for trainers to sit in between training sessions.
"After leaving a corporate gym, I realized my clients worked with me and depended on me to see results, not the gym. A trainer should be confident in building his own brand. The relationship you build with your client is what sets you apart as a trainer."
If you are going to check out BKFC, it's best to give Jreh a call to set up an appointment.  Be sure to bring proof of your certifications and insurance.  It will speed the process of making BK Fitness Center the new home of your personal training business.
By Glenn Dickstein
By Chris Granville